Summer Greetings

From the President

Friends,

I hope everyone is having an enjoyable beginning of summer. As the temperatures rise I imagine many of you are navigating through the excitement of pool openings!

We recently had our 16th Manager-Director Forum at the iconic Sedgefield Country Club. Our very first MD Forum was 16 years ago at Sedgefield CC, hosted by Terra Waldron. The event was very successful with an outstanding group of speakers and insightful panel discussion. Thank you very much to Beverly Marler and her fantastic team, as well as McConnell Golf, for a very special day.

Mentorship and Wisdom Sharing continue to be at the forefront of all our Chapter programming and initiatives this year. Your Chapter Leadership's mission this year is for Mentorship and Wisdom Sharing to be meaningful and impactful on the Young Professionals Network, our Student Chapters, our Industry Partners, and our Allied Associations.

Read more
2017 Board of Director Nominations
Give Back to Your Association!
The Nominating Committee is now accepting submissions from members interested in serving on the Carolinas Chapter CMAA Board of Directors. Information regarding Board service is available on the Chapter website; click here to access: Bylaws.

This year's nominating committee is made up of:

David Dew, CCM, CCE, Nominating Committee Chair
Read more


2017 Summer Education Program
June 26, 2017 at Quail Hollow Club
The 2017 Summer Education Program will be held at Quail Hollow Club, site of the 2017 PGA Championship!

AGENDA

Sunday, June 25th
Networking Dinner (optional) at The Palm Restaurant / Phillips Place – see below.

Monday, June 26th
| | | |
| --- | --- | --- |
| 8:00 – 9:00 am | | Registration and Buffet Breakfast |
| 9:00 – 9:15 am | | Welcome by Tom DeLozier, CCM, CCE |
| 9:15 – 10:15 am | | Jeff Abbot, Executive Director, Carolinas Section PGA (1.0 credit) |
| 10:15 – 10:30 am | | Break |
| 10:30 am – 12:00 pm | | Jason Mengel, PGA Championship Tournament Director (1.5 credits) |
| 12:00 – 1:00 pm | | Lunch |
| 1:00 – 2:00 pm | | Tour (1.0 credit) |
| 2:00 – 2:15 pm | | Break |
| 2:15 – 3:45 pm | | PGA Championship Staff: Building a Major Championship – Facilities, Operations, Scope of Build-out (1.5 credits) |
Read more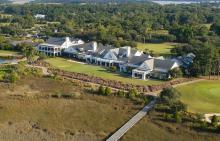 Daniel Island Club
2017 Summer Conference: Charleston, South Carolina!
Saturday, July 15 - Monday, July 17
2017 Summer Conference along with the CCF Wine and Widgets Auction will be held in beautiful Charleston, SC! This is a DO NOT MISS event!



Venues:

Daniel Island Club
Country Club of Charleston
Speakers:
Bill Francis - Tennis Trends and Operations
Jim Urbina - Golf Design
Doug Wright - GCSAA Update
Ray Cronin - Club Benchmarking
AND

Whitney Reid - The "Meat" of Food and Beverage
AND

Gregg Patterson - Mentorship + Leadership + Followership: Identifying, Embracing, and Nurturing the "Activist" Club Manager
Read more
2017 CCF Wine and Widgets Auction
Submit Your Wines and Widgets NOW!
The 2017 Carolinas Club Foundtion Wine and Widgets Auction will be held during the Summer Conference, on Sunday, July 16th, at Daniel Island Club in Charleston, SC. Click here for complete Conference information and registration: SUMMER CONFERENCE
Read more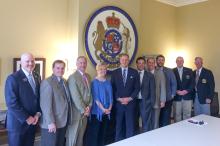 From left, Jeff Abbott, Carolinas Section of the PGA of America; Jack Nance, Carolinas Golf Association; Brian Powell, CGCS Carolinas GCSA; Patricia Calder, Carolinas Chapter of the Club Managers Association of America; Lieutenant Governor Dan Forrest; Drew Ramsey, Carolinas GCSA; Del Ratcliffe, North Carolina Golf Course Owners Association; Ryan Latimer, Carolinas Chapter of the Club Managers Association of America; Brian Stiehler, CGCS, MG Carolinas GCSA; and Rick Robbins, American Society of
North Carolina Golf Day
Golf Delegation Delivers Strong
Economic Message in Raleigh

Golf's significant contribution to the state's economy was front and center with legislators at North Carolina Golf Day in Raleigh recently. Golf industry representatives described how the game contributes close to $2.4 billion in economic impact in 2016, supports nearly 37,000 jobs and delivers almost $435 million in federal, state, and local tax revenue.
Read more


South Carolina Golf Day
On April 26, 2017 the Carolinas Golf Council enjoyed 99% attendance at its legislative lunch-on-the-lawn and meeting in Columbia during South Carolina Hospitality Day at the Capitol in Columbia.

South Carolina's hospitality industry held a legislative luncheon unlike any other event on the General Assembly's social calendar –a Taste of South Carolina featuring restaurants from all across the state serving a taste of their menu specialties. Legislators are all raves about the quality and selection of foods and the extremely large and friendly industry turnout.
Read more


Passion Graham Wins First Annual Impact Scholarship
CCF Scholarship Named in Honor of Damon DiOrio, CCM, CCE
The Carolinas Club Foundation is proud to announce that the first annual Damon DiOrio Impact Scholarship has been awarded to Passion Graham of Charlotte Country Club. Passion serves as Food and Beverage Supervisor at CCC. She was a student CMAA member at Central Piedmont Community College.
Read more
New Certified Chief Executive
Congratulations to the Carolinas Chapter CMAA newest Certified Chief Executive:

• Jason Macaulay, CCM, CCE, Highland Falls Country Club, Highland, NC
We are all proud of you, Jason!

Click here for information about CCM and CCE designations: CMAA Certification


Our Future Leaders
Congratulations to This Year's Future Leader Scholarship Winners
Each year the Carolinas Club Foundation awards up to ten (10) Future Leaders Scholarships. The purpose of this scholarship is to provide tuition support to mid‑level club managers at the Chapter- and Region‑level as well as a select National‑level opportunity. In order to help recipients attend education and networking events, each scholarship will fund $500 to be applied toward the recipient's registration costs and reimbursable expenses directly related to the recipient's travel, lodging, etc. for one or some of the following programs:

• Carolinas Full‑Chapter Meetings
• Carolinas Region Meetings
• National Manager in Development Program
Read more


Sharing the Wisdom
In my positions as Managing Director of the Carolinas Chapter CMAA and General Manager/COO of private clubs over the past 30 years, I have come across numerous useful articles, letters, blogs, and miscellaneous thoughts about our business.

I would be honored to share these with you from time to time.
Read more
| | |
| --- | --- |
|     |       |
| PLATINUM SPONSORS | GOLD SPONSORS |



SILVER SPONSORS




BRONZE SPONSORS
CAROLINAS CHAPTER CMAA | 8595 Pelham Road, Ste. 400, #318 | Greenville, SC 29615